Iron.io has created a great new Airbrake agent for the New Relic platform. The agent grabs data from your Airbrake account and uploads it into New Relic. It does this on a continuous schedule so that you have up-to-the minute graphs and details on error data in New Relic without having to do a thing.
The New Relic platform is a new offering from New Relic that lets third-party tools and services upload performance metrics into New Relic – providing a sole dashboard for viewing application performance. Having performance information in a single place can be essential for identifying and resolving issues before they become critical. Plus you get New Relic world-class graphs and visualizations.
The agent runs transparently on the Iron.io IronWorker platform so all you need to do is set up a free Iron.io account and enter New Relic and Airbrake credentials and, boom, you're up and running.
What It Does
As you know, Airbrake is the top service for collecting errors generated by applications and aggregating the results for review. The Airbrake agent for New Relic tracks
Open errors
Resolved errors
Project stats
Environment stats
How To Use the Airbrake Agent
Using the Airbrake agent is simple. Just go to the Airbrake Agent plugin page on the New Relic site. You'll be prompted to create an Iron.io account and to enter your New Relic and Airbrake credentials. Once you hit "Start Agent" it will start uploading data from Airbrake to New Relic. It's that simple.
Iron.io has a free plan that provides 200 hours/mo of processing free – an amount of time is more than sufficient for to power the Airbrake agent.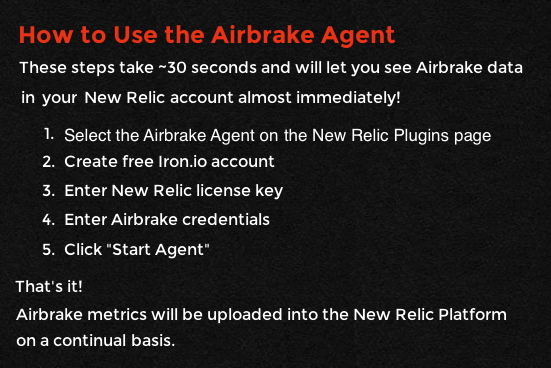 Signup takes less than 30 seconds
How It Works
The Airbrake agent is a combination of a plugin code and automated processing. The plugin code accesses the Airbrake service and extracts relevant metrics. It runs as a regularly scheduled task within Iron.io's IronWorker service. As a result, the uploading is done automatically without having to manage servers or worry about any of the processing.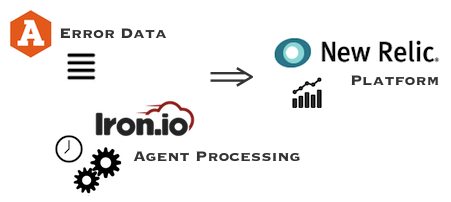 Plugin code runs on a continuous schedule within Iron.io
Airbrake's Take on the Iron.io-powered Agent

"Using Iron.io to upload Airbrake metrics into the New Relic Platform is a big win for us. Our users gain because they can get the Airbrake plugin running with very little effort. Our engineering team benefits because we don't have to do anything to move and transform data on behalf of our thousands of users. Iron.io handles all of this effortlessly and will automatically scale to handle the workload."
– @benarent , Product , Airbrake
About the New Relic Platform
The New Relic Platform is a new capability that lets third-parties upload event data into New Relic for enhanced performance monitoring for web, server, and mobile applications.
Community members create New Relic Plugins that collect monitoring data from their technologies of choice and transfer that data to New Relic's SaaS platform for processing, analysis, and persistent storage. Plugin data is presented to end-users through New Relic's data visualizations and web-based user interface. Plugins can be published and shared with New Relic end-users or be kept private. End-users can install and use any published Plugin (or build their own) for free to add visibility into any technology component. Plugins complement New Relic's native application performance monitoring capabilities by providing visibility into other technology components (such as databases, message queues, caching servers, routers, and others) that support applications. The New Relic Platform provides a single, unified platform and a consistent user interface for monitoring the entire application stack.
Powering Agents for Other Services
Iron.io provices New Relic agent capabilities for its own IronMQ and IronWorker services and for a number of other third-party services including Twilio, Desk, Stripe, and Parse.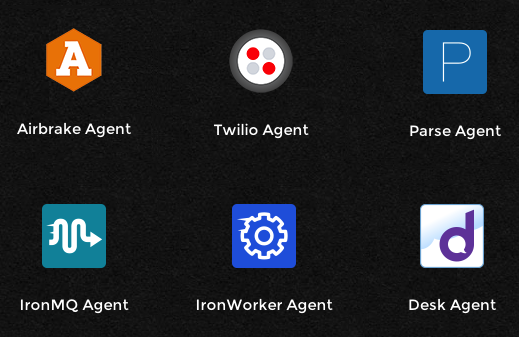 New Relic agents powered by Iron.io
If you're a service provider, note that the IronWorker platform can be used to power agents for your services – eliminating the need to addressing any scheduling and processing that might be involved.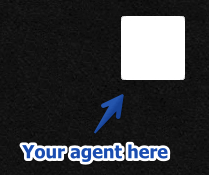 Iron.io can be used to power other agents
Resources
To take advantage of the special offer for Iron.io users for New Relic Standard (free, forever instead of the normal price of $49/month/host), go to the New Relic site.

New Relic Standard (Special Offer)
To get the Airbrake Agent and the other Iron.io-powered plugins, head to the New Relic site (as well as click on the plugins tab in their dashboard).

Airbrake Agent on New Relic
To view the code for the Airbrake plugin, visit the repo on Githbub.

Airbrake Plugin on GitHub