Airbrake Error Monitoring has long been the go-to service for top dev teams to monitor application errors. Today we're launching a new suite of Performance Monitoring tools - designed and built specifically for developers. Airbrake Performance Monitoring is now available for Ruby on Rails apps, with additional languages coming soon!
The Motivation
Lots of Airbrake customers also use a traditional APM tool, but they usually aren't loving it. "Too complicated, too expensive, and too difficult to maintain" are the common gripes. But the thing we heard most was that traditional APM isn't built for developers. Ops and Dev Ops care about performance first and foremost, and quality second (or sometimes not at all). And tools like New Relic reflect that.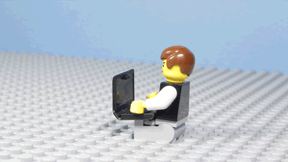 Developers care about performance, but specifically they care about how that performance impacts the user. Said another way, what developers really care about is the overall quality of their apps, not just how fast they are.
The Result:
Airbrake Performance Monitoring puts Quality front and center by tying performance together with our best-in-class error monitoring service. That lets us link performance issues back to the actual errors that are impacting your customers. So you understand the true impact of a performance problem.
And most critically, Airbrake Error Monitoring gives you all the information you need to identify and fix the problem - fast! We tell you who was affected, which file/lines were changed, which deploy introduced the problem, and much, much more.
The Nuts and Bolts:
My favorite thing about Airbrake Performance Monitoring is the setup. Just take a minute to update your airbrake gem to version 9.5 or above. That's it. No laborious installs, no complex configurations.
Update your Gemfile with:
gem 'airbrake', '~> 9.5'
Then update our main gem and the gem it depends on by running:
bundle update airbrake airbrake-ruby
Already using version 9.5 or above? Congratulations, your setup is complete!
What you get:
The Performance Dashboard is your control center, designed to give you a quick overview of your application performance. Requests, response times, failure rates - both now and over time. And of course, errors. Because, again, you don't just want to know that there's a performance problem. You want to know who's affected, and how to fix it.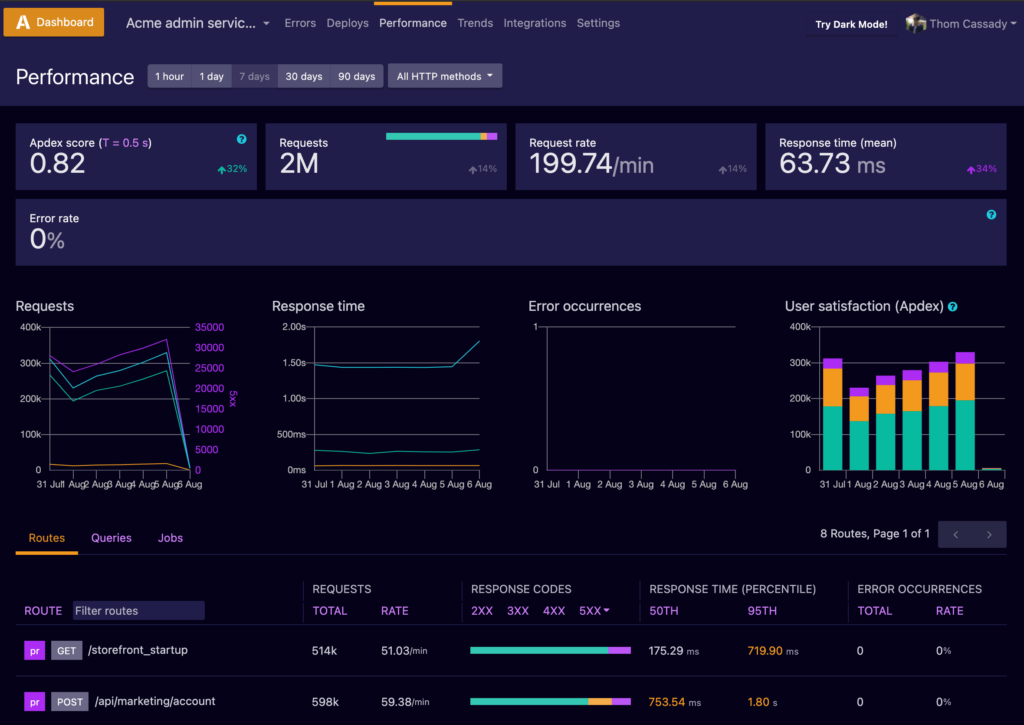 Also on the dashboard is a detailed breakdown of performance characteristics for each route in your application. Search and filter by name or location, or sort by count, response codes, response times, or error count.
See a problem? Click straight through to a detailed breakdown of response times, and critical diagnostics for that route. And, critically, from here you can see how many unresolved errors are tied to this performance problem.

Clicking through to the error detail opens up the full suite of Airbrake Error Monitoring diagnostics: aggregations, context, backtrace, affected users, file/line changes, the guilty deploy that introduced the problem. You know, all the stuff your traditional APM doesn't tell you.
The Fine Print:
Traditional APM prices by the server, which is fine I suppose if you're running a monolith. But last we checked, the world is moving towards microservices, distributed hosting, etc.
Our pricing is designed to be fair and simple. We charge based on the number of performance events, regardless of how many servers you're using or what size they are.
Still skeptical? Well you're in luck because your first 50,000 performance events each month are free! If you're loving the new performance tools, you can opt-in to keep the good times (and the performance data) flowing. If you choose not to opt-in, no hard feelings. We'll simply stop accepting performance events beyond 50,000 and you won't be charged for APM.
You can get more details on pricing, features, and how your life will never be the same again at airbrake.io/product/performance.
What's next?
We're going to be adding a lot to our new Performance Monitoring suite over the coming months. If there's anything you'd love to see or a language you'd like us to add, let us know at support@airbrake.io.