We might have let it slip already in a recent post but there's a nifty new set of features that's all about giving you more visibility into what is actually changing in your app. We're calling it Code Insights. We believe by giving you a richer, more informative view of the changes you make to your project's code will help you monitor and quickly understand how new changes impact the overall quality of your app.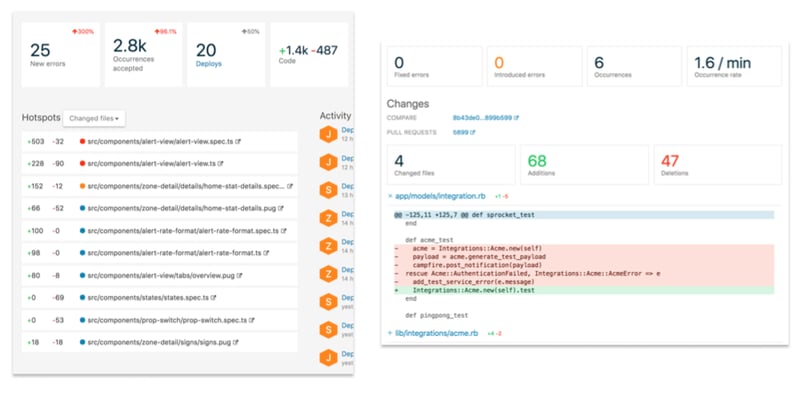 With Code Insights, you don't only see the impact of what you're shipping - see what you're actually shipping. Drill down to specific to the lines of code you added in a recent change you deployed or step back to see trends in how your team is changing your app with your new Code Insights tools.
A big deploy is always something to keep an eye on. If your project has a recent deploy with a monsterous diff, that's a prime item to keep a little closer eye on for any errors.
With Code Insights, you can also see what files are changing and how much and how often they change. Do these changes have a positive effect on the error volume of your project? This new feature set allows you to easily spot trends in your code changes and the impact on your application's errors; take advantage of what you learn from this new data to refine your development lifecycle.
You can find Code Insights in two places:
Deploy Dashboard: Just click on a deploy from the deploy list and you can view the code that was deployed, any relevant pull requests, and more.
Project Dashboard: Right under the big error graph for your project, you can see Code Insights in the summary data card (showing you your total code additions and deletions) and in two new Hotspots options - most changed files and most touched files.
Code Insights are available to all paid Airbrake accounts. You can check them out yourself just by enabling an integration with GitHub, GitLab, or Bitbucket. Try it out and tell us what you think!
Don't have an Airbrake account yet? Try us out for free.