Setting up Airbrake to monitor an app is simple. Just a couple lines of code and you're off and running. But to really get the most out of it, you'll want to integrate with GitHub so you can track and fix issues. And of course you want to monitor all your apps so you don't miss anything.
Up until now, you'd have to create projects one-by-one, and then set-up your GitHub integration separately for each. No longer. Now when you authenticate with GitHub you can quickly create multiple projects in just a few steps. You'll be monitoring your entire stack in no time!
Let me guide you through the process. First, click "+ Create new project" from the top of the Project list dropdown.
This will open the project modal where you'll now see big ol' blue button for authorization with GitHub.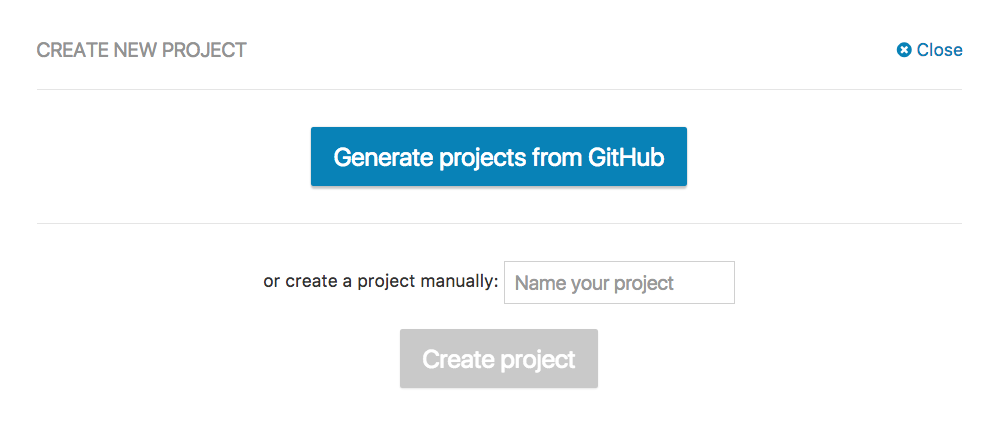 If you've previously authorized GitHub in your Airbrake account, we'll automatically fetch your repositories. If not, you will be redirected to GitHub so you can give access to Airbrake.
Your repositories will be sorted by org so you can quickly find the apps you want to monitor.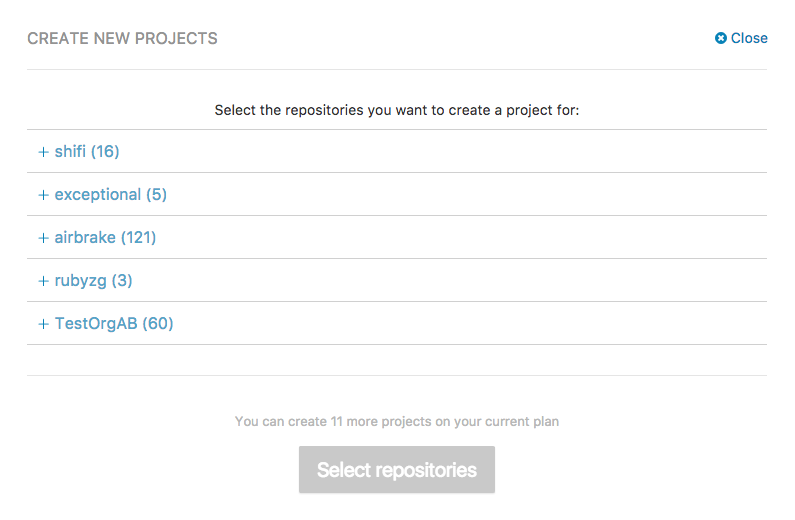 Now just select GitHub repositories that you want Airbrake to monitor. We'll auto-populate the repo language using info from GitHub (you can change it if you want), and use this to auto-generate GitHub issues in each repo with language-specific installation instructions.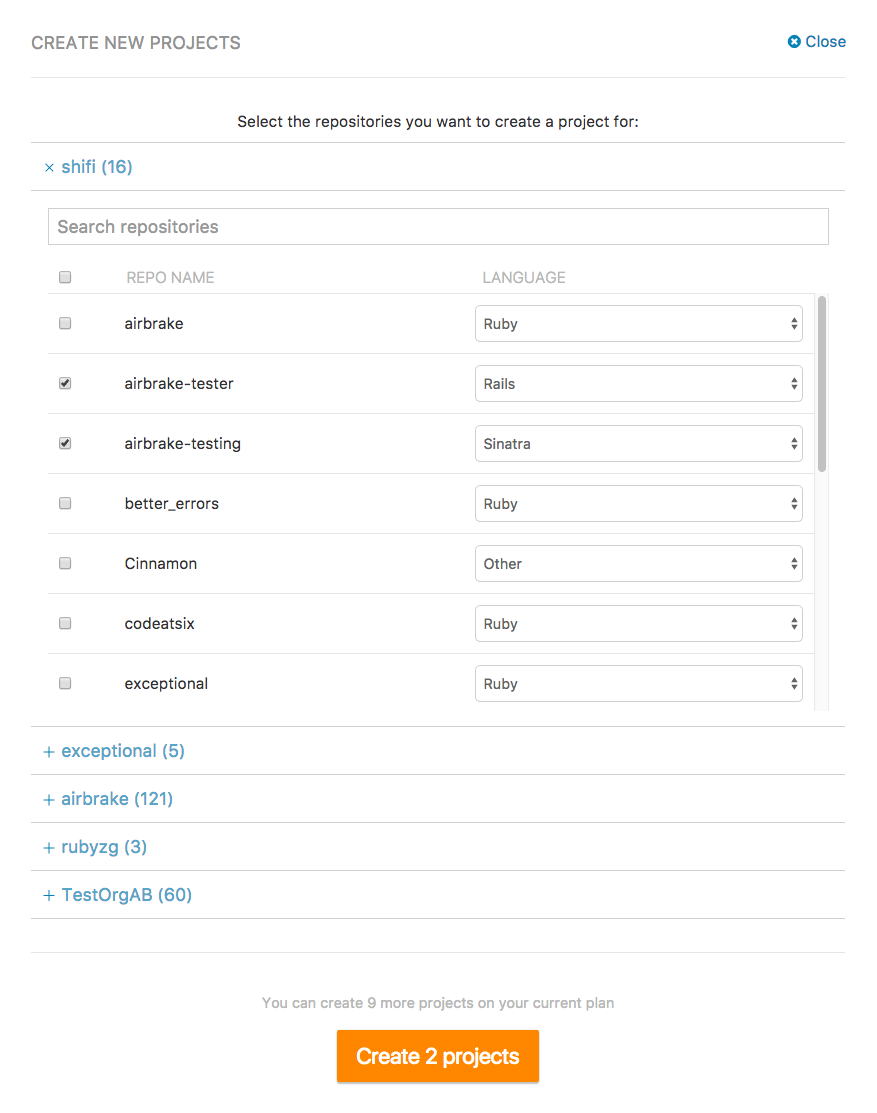 Clicking "Create projects" will create the corresponding Airbrake projects, add our GitHub integration to each, and create the Github issues with installation instructions. These instructions will contain all relevant details such as project API key and project ID of created projects. So when you're ready to start monitoring an app, just copy/paste from the issue into your code. That's all there is to it!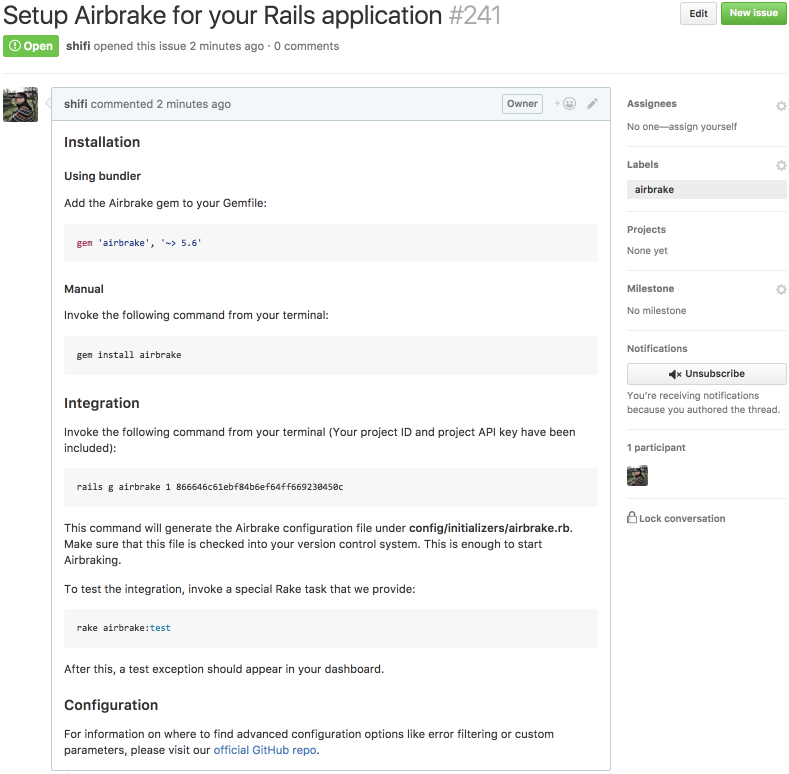 Once the projects are created, we'll show you useful links to quickly jump to any created project, visit installation instructions on GitHub, or add other popular integrations to fit Airbrake into your workflow, like Slack or Trello.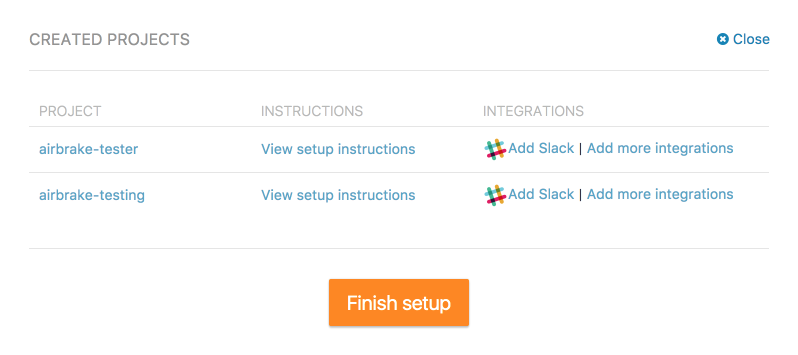 The goal is to make it as fast and simple as possible to monitor your full stack. Did you know we support almost every major programming language and framework? And every Airbrake user on the Growth plan or above gets unlimited projects. So you really can monitor all your apps and make sure your customers get the clean and consistent experience they deserve. No more excuses!