How many of you guys and gals love checking Airbrake everyday? I mean, maybe some of you do but it would be more nifty if Airbrake bundled up recent project stats or even told you when you should take a look right? That's why we've expanded the kinds of information you can have Airbrake automatically send to you.
In this quick post we'll see what these simple but useful features do and why we built them. Reiterating something we said in our recent Deploy Dashboard 2.0 blog post:
At Airbrake we believe that fast feedback helps you improve software quality with more calm and confidence.
It's even better when that fast feedback is automatic. Here, we're looking at two different kinds of feedback we've added:
Reaction based:

newly expanded High Volume notifications

Interval based:

completely new daily and weekly digest notifications
These two different kinds of notifications allow you to step away from the Airbrake dashboard confidently, knowing that when you need to take a look at an issue, we'll tell you about it.
Only want to know about errors when they happen often enough to be a problem?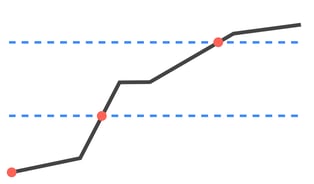 Our newly updated High Volume notifications send you repeat email notifications when errors reach thresholds in total occurrence counts. These help you never miss when an existing error group creeps up to problematic levels. For more info on the frequency of these notifications and where to enable them, check out our docs.
Into something more generalized than individual error notifications? No problem, that's where our daily and weekly digests come in. Our new digests give you a snapshot of what happened in your Airbrake over the last day or week by bundling up your projects' number of new errors, total occurrences, and deploy count and delivering into your inbox. You can learn more about our digest emails and how to enable them in our docs.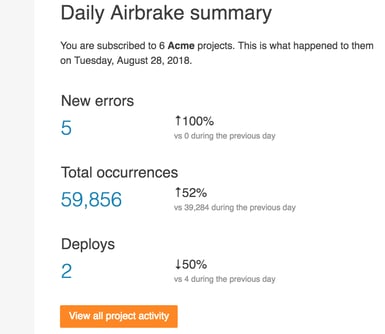 Want to keep your notifications to only more high level monitoring? You can change your notification settings to only get exclusively digest and/or high volume notifications instead of every new and reoccurring error.
Don't have an Airbrake account yet? Try us out for free.