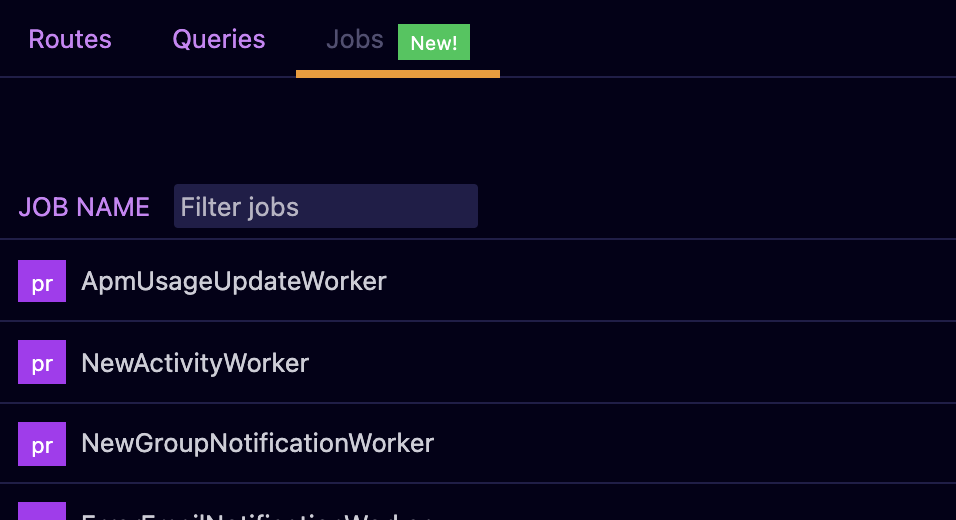 Now Airbrake Performance Monitoring automatically tracks your app's background jobs. That's right! Get direct insight into failure rates and durations all on your Performance dashboard. Correlate errors, performance issues, and job failures to identify and address problems fast.
What can I do with Background Job Tracking?
Now with Background Jobs Tracking, you can:
Gain more visibility into the performance of your applications' background jobs
Identify jobs that are failing frequently
Link directly to the errors causing your jobs to fail
Identify slow performing jobs
What frameworks are supported?
Background Job Tracking is supported for Rails, Go, and Python apps for a bunch of different job processing libraries.
Rails: Sidekiq, Resque, Sneakers, DelayedJob, ActiveJob, and Shoryuken
Python: Celery
Go: manual tracking support
We'll be adding more languages and frameworks in the future. Let is know what you want to see!
How much does it cost?
If you've already enabled Airbrake Performance Monitoring, Background Job tracking is included at no additional cost. Plus, there's zero extra setup required if you're on the latest version of our notifier. If you haven't yet enabled Performance Monitoring, you can get started here.
How do start using Background Job tracking?
We've begun the feature rollout for the first phase accounts and it should be widely available by the end of the week. Can't wait? Send us a message to get bumped up in line.
For Rails, all you need is to be on the latest gem version. For Go and Python, getting set up is easy, you can find all the info you need to start tracking Background Jobs in your Rails, Go, or Python app over on our docs site:
Get more info on Background Jobs monitoring
There's lots more coming in the future. Never miss cool feature announcements (like this one!) by following us on Twitter. Try Performance Monitoring for free by enabling it here.