This week, one of our newer customers (the guys behind Forge) sent in some feedback about how they were loving the Django-Airbrake project for getting Airbrake to play nicely with Django.
The project was written by Digg's former lead architect, Joe Stump, who's now doing other cool things with his startup Sprint.ly. One of the perks of being a part of a developer tools company is getting to see the all the cool things our users are working on. Sprintly definitely qualifies here.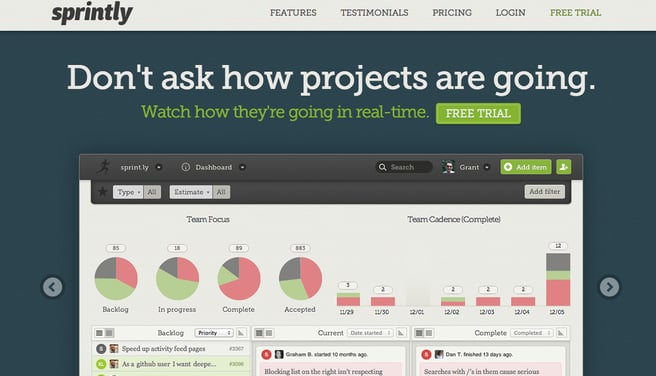 We at Airbrake actually have a distributed team ourselves, with team members in Portland, San Francisco, Las Vegas, Italy, Poland and Spain. Keeping tabs on what everyone is working on (and pulling such workflows together in one place) can definitely be a challenge, especially as the team keeps growing. Many of the tools out there are focused on coordinating developer activities, and spend less time focusing on coordinating the activities of other folks in the company: those in marketing, sales and support.
What's cool about Sprintly is how they specifically focus on bringing other members of a company into the software development process. As they say in their Non-Blocking Development blog post, competing in this rapidly iterative software environment means bringing principles of agile development to all aspects of the team:
It also means we'll need to take the notion of cross-functional teams to the extreme. Salespeople, business development, marketing, and PR will need to be more closely embedded into the software development process. It means us software developers will need to learn a lot more about how the business functions and how software can enable the business to operate more effectively.
The team over there has a cool vision that we were happy to come across this week. We're thankful for the Django-Airbrake notifier and wish the guys at Sprintly the best of luck!