We welcome Joe from @mediapiston to be the second Airbrake user in our "Awesome Airbrakers" series. Awesome Airbrakers is a series highlighting Airbrake users. We'll be hand selecting Airbrake users, along with taking submissions.
What does your App do?
MediaPiston is the easiest way to get high quality, original content. We connect savvy freelance writers with web publishers and manage the editorial process with streamlined tools to make the process easy for both sides.
Setup. Environment, Language, Tools, Etc.
We're a Ruby on Rails shop making extensive use of Heroku and EC2. We use TDD and continuous deployments so we can iterate new functionality quickly with customers and our writing community.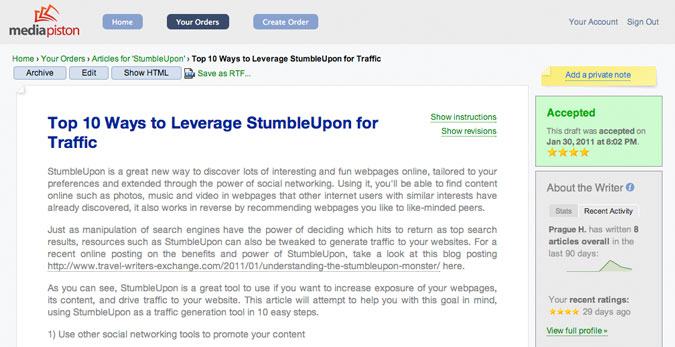 What do you like about Airbrake?
The bread and butter like dupe detection and auto resolve on deploy...errors and bad enough, so getting things neatly organized so we can quickly assess and fix vs. getting bombarded with 798 SMS texts for the same thing is pretty nice.
How long have you been using Airbrake?
18 months
How do you normally deal with Airbrake Exception reports?
Depending on severity and impact, we'll fix them right away.
Favorite Music to Hack to.
Rdio doesn't lie: Gold Panda, Bibio, The Shins, Thievery Corporation, Prince
Other Favourites