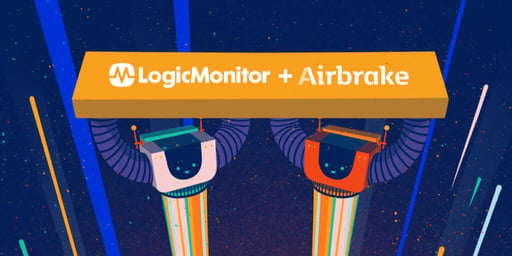 Over the past 10+ years, I've witnessed the rapid growth and evolution of the observability space. At CopperEgg, the first company I founded, I saw the adoption and growth of cloud solutions and the accompanying need for developers to have real-time visibility in the health of their app. Then, again at StackEngine, a company that helped DevOps teams manage containers at scale, I saw a dramatic expansion of developer responsibilities. And now at Airbrake, we're 100% focused on developers' needs for monitoring and understanding the health of their applications.
The common theme across all these experiences is that the role of a developer has evolved from simply building services and software to also having to deploy, manage, and scale their products and services in new environments, such as Kubernetes and serverless platforms. As businesses place more and more responsibility on developers to own their code beyond deployment, the entire engineering team requires a similarly dramatic increase in operational knowledge and visibility. This shift is happening across companies of all sizes, from startups to large enterprises, and corresponds with a growing focus on observability.
While the walls between operations and development have been blurring for many years, the tools used by each function have remained siloed and tailored to the needs of distinct teams. Most of these solutions are exceptional at what they do; mainly helping operations teams manage resources, while helping developers consume resources. However, the blurring of engineering and operational roles and responsibilities is not a trend that's likely to reverse itself. In fact, this shift has given rise to a blended DevOps function. To that end, new tools and solutions must emerge that span the needs of both functions, while giving businesses powerful new insights into the customer experience and growth opportunities.
As I mentioned before, Airbrake's application error and performance monitoring has long been a developer-centric service, built with passion by developers, to enable the visibility of applications from the inside-out. What's been missing is additional visibility into the platform applications run on, and the environment they run within; both of which are critical to fully understanding the context and root cause of an issue. Knowing about an error, or performance problem within your application is just the first layer. There are many other components and moving parts that can (and do!) impact the experience of what we build and what our customers expect. This broader context has always been missing from developer-centric tools and services. Today, that changes as Airbrake joins LogicMonitor.
And this is where I get excited!
LogicMonitor is an award-winning infrastructure monitoring and observability platform that delivers the additional platform and environment visibility Airbrake aspires to. Together Airbrake and LogicMonitor will enable developers with the depth of platform observability they desperately need, while also bringing code-level application insights to IT and operations teams. I'm thrilled to join the LogicMonitor engineering team, where I will help architect and deliver the next generation of observability tools that will bridge the gap between development and operations to drive new opportunities for our customers.
Want to learn more about today's news that Airbrake is joining LogicMonitor?
Read the press release here. You can also learn more about LM capabilities in general at logicmonitor.com.
Looking forward to this next step of our journey,
Eric, Airbrake CTO