We welcome UserVoice to be the fourth Airbrake user in our "Awesome Airbrakers" series.
What does your App do?
UserVoice creates simple customer engagement tools that help companies understand and interact with their customers and build customer relationships that last. We offer a Feedback and Helpdesk solution that are designed to make engaging with your customers fun and easy.
Setup. Environment, Language, Tools, Etc.
UserVoice runs on the Ruby on Rails platform at Softlayer. Most of our data is backed by MySQL, but we use a host of other NoSQL technologies such as MongoDB for analytics, Redis/Resque for our asynchronous processing, and Sphinx for search.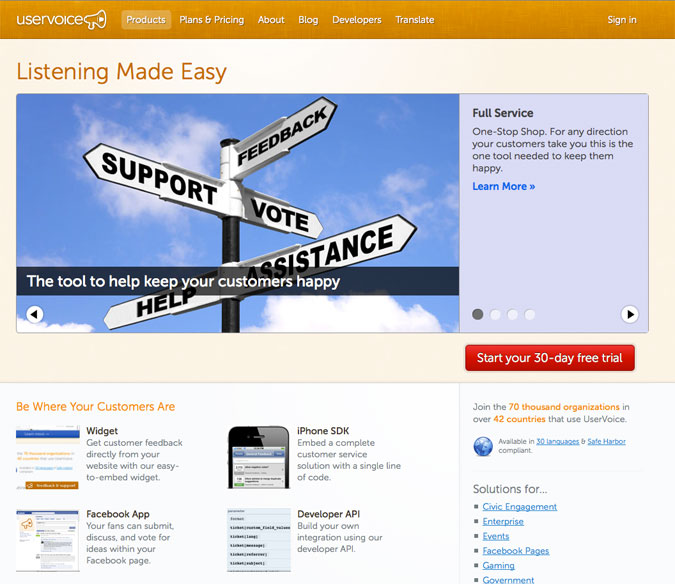 What do you like about Airbrake?
Airbrake helps us minimize the amount of errors our customers see. It has a simple but effective UI and a good notifying gem to report back to the airbrake servers. It lets us focus on fixing bugs.
How long have you been using Airbrake?
Since 2008.
How do you normally deal with Airbrake Exception reports?
We have a zero tolerance policy for Exceptions at UserVoice. All exceptions are dumped into chat, and the responsible engineer works on fixing the issue right away.
What could Airbrake do better?
More granular notification settings, granular notification channels (chat vs email), and tagging of exceptions from within our app (plus the ability to search and report on those tags) would be great.
Favorite Music to Hack to.
Jonathan Coulton, Vienna Teng. Tiesto. Bach.