New year, new goals for your app! This year, we compiled a list of top tips from the developers at Airbrake to help you take full advantage of Airbrake and all of its features.
Here's what our Airbrake developers have said about using Airbrake Error & Performance Monitoring:
Tip #1: Add custom error parameters in the aggregations' tab to take advantage of searching and filtering all errors by that parameter. Custom aggregations can be set from the drop-down menu in the "More aggregations" section of the Aggregations tab.
Tip #2: Check your Usage Caps and adjust them, if needed, whenever you're about to roll out a big deployment. Airbrake's On-Demand errors will ensure you don't miss out on any errors and your deployment goes smoothly.

Tip #3: Automate deployment tracking. It's very convenient to be able to click a file in Airbrake and have it open up on GitHub. For instructions on how to do this, check out our Deploy Tracking section under docs.
Tip #4: Airbrake has several keyboard shortcuts you can use while in the app. Below is a list of shortcuts. You can also see what they are in the drop-down menu under your name in the upper right corner of the application.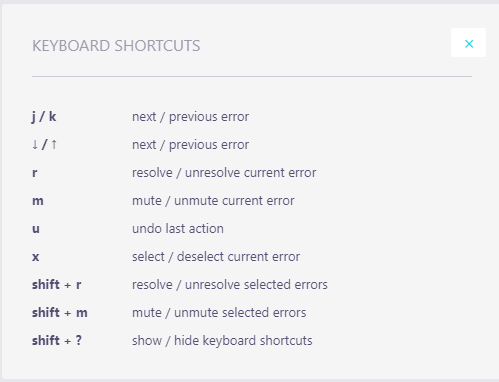 Tip #5: Stay updated with notifier changes since we're regularly introducing new features and your notifier is key to making sure your app is up-to-date. We'll make sure you're aware of any notifier changes we roll out via email and/or Twitter.
Tip #6: Adjust notifications per user to prevent notification overloading. It's easy to do. Head on over to your profile settings in the upper right-hand corner of the Airbrake app. Once there, click on the notifications tab to customize your notification settings.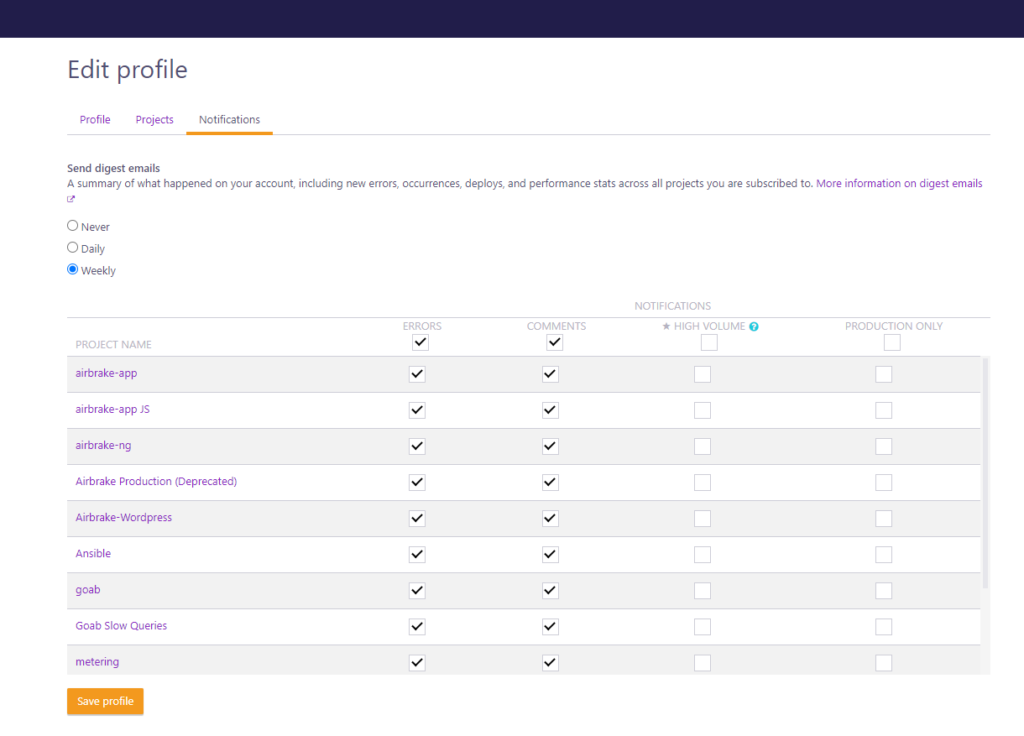 Tip #7: Check your APM dashboard first thing each day. In seconds, you can understand the state of your application.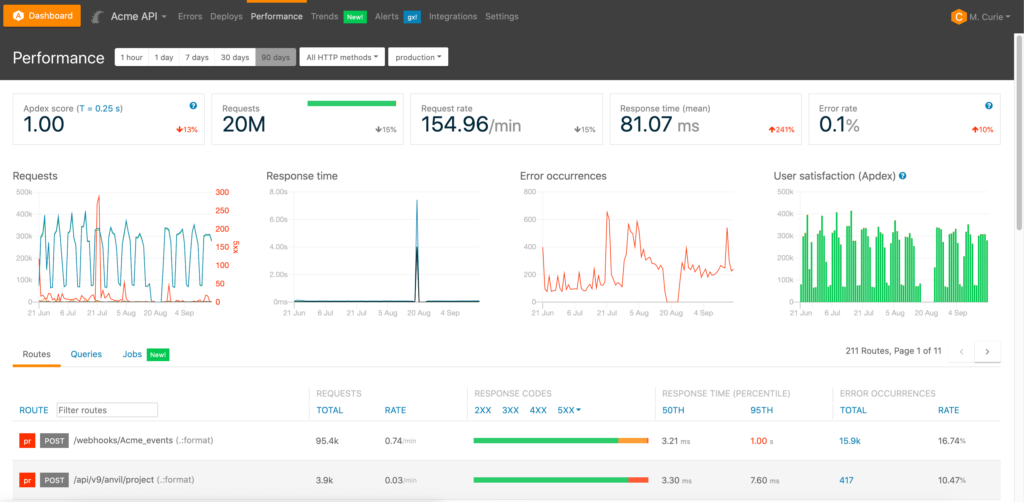 Tip #8: APM events don't roll over, so take advantage of the free 50k events you have each billing cycle!
Tip #9: Only want to see notifications about crucial errors? If that's the case, you can easily filter notifications by severity. Set a minimum severity value via your project settings page. Any errors below this threshold will not trigger a notification.
Tip #10: Performance monitoring is super useful to confirm if there's a widespread issue with a background worker. With performance monitoring, you can link failures back to errors and the worker causing these errors. You can see how well your workers are functioning under the "Jobs" tab on your Performance dashboard.

Tip #11: Notice the same errors popping up in your Hotspot files? Use Airbrake's Hotspots feature as a teaching tool to educate your team on how to avoid these errors in the future.
Tip #12: Keep an eye on your Apdex Score. The closer to 1.00, the better the user experience of your application.
Tip #13: Have something to say about an error or fix? Leave comments for your team in the Airbrake App.

Tip #14: Errors that show up under the "Alerts" tab have a severity tag. These tags include: debug, info, notice, warning, error, critical, alert, emergency. Use these severity tags to prioritize which errors you should fix first.
Tip #15: Using a new tool that you would like to integrate with Airbrake? Not a problem! Airbrake integrates easily with several popular developer tools. All you need to do is update your integrations under the "Integrate" tab. Airbrake also supports webhooks! Give us a URL so we can send you a JSON object with information about errors.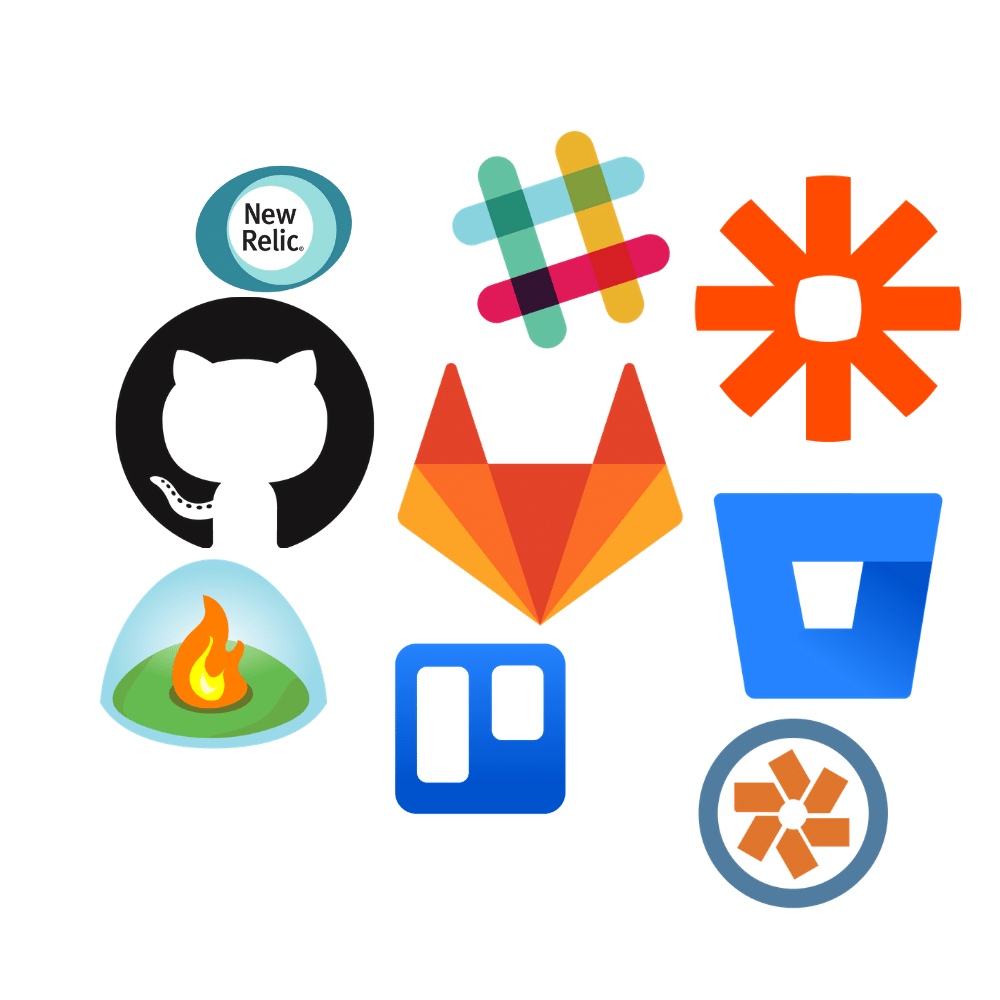 Tip #16: You can see "deploys with the most errors" right from your dashboard. You can further fine-tune what errors you see by filtering errors by deployment.

Tip #17: You can get help with the Airbrake App within the app itself. In the bottom right corner of the screen, you have access to the Airbrake Customer Success messenger. Type into the chat to let us know how we can help.
Tip #18: Leave Airbrake up in your browser as another way to see when errors pop up in real-time.

Tip #19: If you hover over the Apdex bar graph located on your Performance dashboard, you'll see a complete breakdown of your Apdex score by satisfied, tolerated, and frustrated users.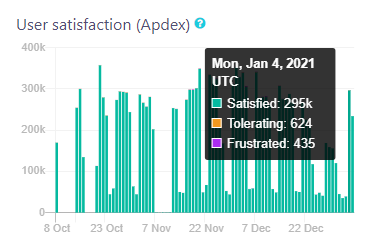 Tip #20: Tired of receiving notifications about known errors? Airbrake allows you to mute errors. Click on the error to mute it. Don't worry: you'll still be able to see these errors via your dashboard and can unmute them at any time.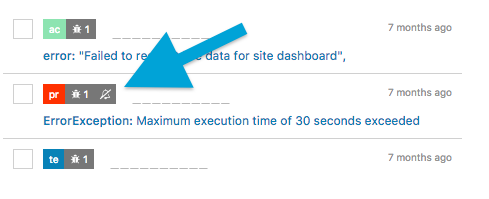 Tip #21: Use the Airbrake CLI to access your Airbrake account without leaving the terminal. In the video below, we'll go over how to set up the Airbrake CLI in 4 easy steps.
Tip #22: Use Airbrake Teams to manager your account's users. With Airbrake Teams, you have complete control over who has access to projects, account settings, and more.
Tip #23: Airbrake plans to roll out several new upgrades in 2022! The best way to keep in touch is through email, our blog, or to follow our Twitter account.
Looking for additional ways to get more out of your Airbrake app in 2022? Shoot us an email and we'll be more than happy to provide additional tips!
Not an Airbrake user yet? Not a problem. Sign-up for a free forever developer account where you'll have access to every single error monitoring feature available, including unlimited errors, unlimited integrations, unlimited users, and so much more for the first thirty days. Discover the power of fearless deployments today.