For the past month, we ran a swag experiment where we offered a free frisbee to anyone who upgraded or signed up during the month of August.
We were soon to take a delivery of 200 frisbees, but we we didn't know who to send them to. This is the story of what happened.
TL:DR. We made developers happy with ribbons and frisbees. One user upgraded!
Getting to know our users
For the past 10 months, we've been using Intercom as a CRM for SaaS and this has given us a much greater insight into our user base as well as being a key tool for meeting our customers. We've been to offices in Krakow, London, San Francisco and we even ran a last minute event in Beijing. Intercom can be used to find highly active users, and along with the awesome automated messages, we use it as a 21st century BI tool. Sometimes we just load the map view and hatch plans for world domination! Intercom locates users using their IP address, making location-based messages simple and using this feature we know there are over 800 Airbrake users in San Francisco.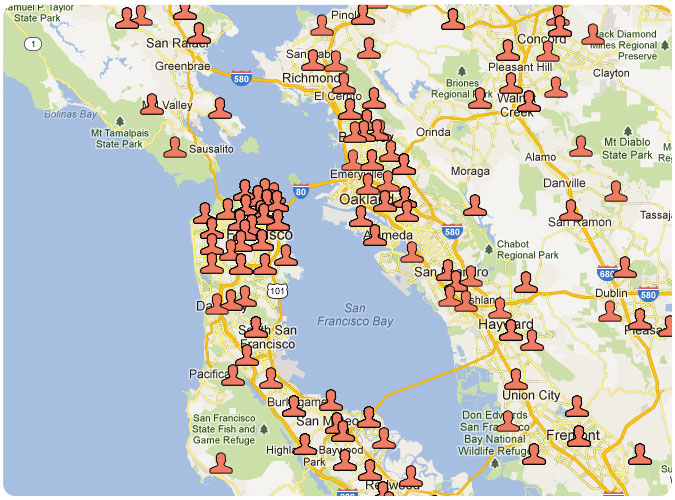 We quickly knew that we could very quickly surprise and delight many of our customers who are only used to getting bad news from us (Reporting that they have a broken app) .
Tracking down the address to deliver the SWAG
After identifying our top 30 users in San Francisco (100 plus logins), our next step was to get a pinpoint on their offices. We could have gotten this data from our billing information, but we know that many companies have different billing addresses from their physical offices. Our hack to get physical location data was to cross reference domains / account names on FourSquare. FourSquare has an impressive search interface and accurate address information.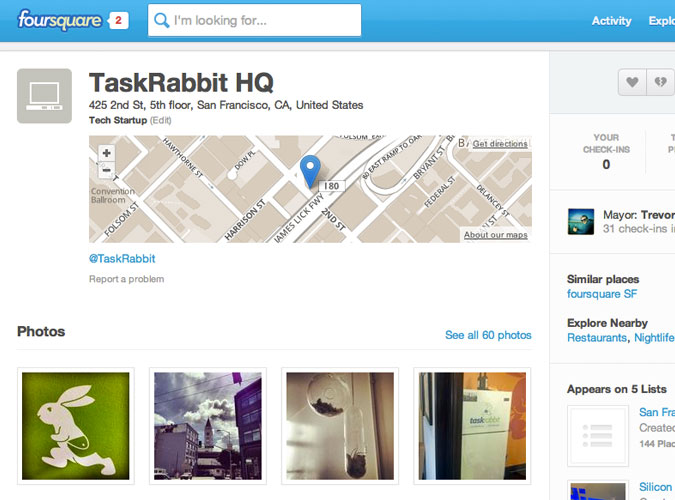 Armed with a spreadsheet full of addresses, our next step was to prepare the frisbees. We opted for handwritten notes (yeah.. when was the last time you got of those) and orange ribbon.. because devs like ribbon to.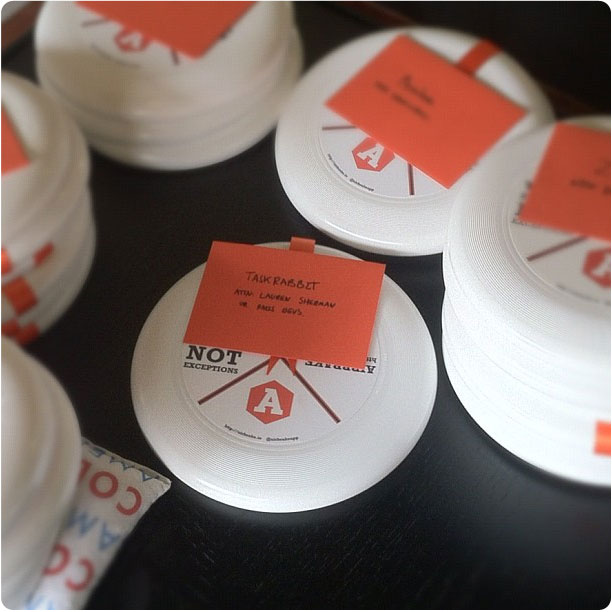 Delivery
It took around 2 hours to prepare all the frisbees, so we knew it would take a while to deliver
all the frisbees to the mainly SOMA, Mission and Downtown addresses. We posted the job on TaskRabbit, and before long, we had several bids. A frisbee enthusiast opted for the task and undercut the competition. Colin S. came armed with a scooter and a logistics map.
Feedback
After sending out the frisbees we had some immediate tweets, and one or two e-mails of thanks.
I sent an e-mail out to all 30 recipients with the short questions below.
1. Did you get the frisbee? 


1a. Were you shocked that we knew where you lived? 




2. Were you excited to get a hand-written letter and some personal swag? (1 = hated it.. 10 = loved it) 




3. Would you upgrade your plan as a result?




3a. Did you upgrade as a result? 




5. Can I use your name in the blog post?
I got replies from AirBnB, memolane, TaskRabbit, threadup.com, Goodreads.
The results were interesting. Everyone was surprised to get a frisbee but not shocked that we found their address. The mean level of excitement was a mean excitement level of 7.8, which is well on the way to loving it. Customer love is a worthwhile activity… and something that we think is important. Having a closer connection and personal connection is always going to decrease churn.. but the real ROI proof of the pudding is did anyone upgrade?
The resounding answer to
Would you upgrade your plan as a result?
Was a resounding No.
Why the bad Swag ROI?
I consider the reasons was that there is little direct relationship between SWAG and paying more for a SaaS service. It did create an icebreaker to the new Airbrake Team; making local teams more likely to give us valuable product feedback.
As a result of the frisbee exercise, I met with the TaskRabbit Dev team. TaskRabbit had been using Airbrake for a while but weren't aware of some recent feature updates. As a result TaskRabbit did successfully upgrade to one of our Pro plans.
The breakdown
60 frisbees from Custom Frisbee cost $533.34
Letters and ribbon came in at $60
Delivery $79
Total: $672.34
So what's the ROI of the frisbee? Over a 6 month period, this was a worthwhile activity. Along with providing a different and fun outdoor swag item, feedback was very positive.
I'm now planning on a doing a larger swag deployment with our long awaited Airbrake Tees. To anyone waiting for one; we have about 200 to send out. They will arrive, I promise.
Thank you for reading. We hope this is useful for any startup thinking of sending swag out. If you would like a frisbee, send me an email-- we still have 20 left. A big thanks to AirBnB, memolane, TaskRabbit, threadup.com, Goodreads for their feedback and for the other 25 Airbrake users for not being freaked out by personalised frisbee delivery.